red rocket rally
ORG Rallycross in Hillsboro, OR - May 31, 2009
I took the rally car out to rallycross this morning. Modified 2-wheel-drive was in the first session, after the water truck wet down the field. It was a blast! The car was sliding all over the place. I took out 18 cones on the first run, but cleaned up my lines on the last 3 passes to end up in 2nd place.

I don't think I like the hood scoop we installed. It leaves the air filter totally exposed to water, and doesn't seem to improve much. I think louvering the hood will be the way to go. I also think a proper cold-air intake will be much more effective for sucking in cold air. The MR2 guys at rallycross did get a kick out of the scoop.
Oregon Trail Rally - May 15-17, 2009
We made it through another one! Still having some tuning trouble with the new car (in particular it doesn't like to idle, cruise or start, especially when it gets hot... but at WOT its a screamer!). It stalled on us several times, including 2 or 3 times at the starting line, but we still managed to pull 3rd place in class on Saturday and 2nd on Sunday.

We're modifying the hood to help with underhood temps and cold air intake, and looking forward to the North Nevada Rally on June 20 near Reno. It should be a hot one, so we'll know for sure if the fixes work.
Olympus Rally - April 18-19
Holy crap! Talk about a scary ride! We finished Olympus without needing sweep. It was our 3rd time at Olympus, but the first time finishing (last year ended with the video at the bottom of the page).

On Saturday we were plagued with alignment issues. The front end was severely toed-in, which made the car not want to turn in, and carved the front tires into a nice sawtooth tread pattern. We adjusted it by sight to slightly toe-out, which greatly improved things... Until they got worse. One of the outer tie-rods "went bad", and made steering kind of loose.

Once we found and tightened that, things momentarily improved, then all of a sudden, THUNK! It got horribly bad. The car would pull one way when I accellerated, and dive the other way when I let up or braked. We white-knuckled through the final 2 stages of the day at about half speed and back to the service area where we discovered a front control arm bolt had come unthreaded and was barely hanging in the hole. The control arm was flopping around on the loose bolt making the steering prety random, especially on the rough roads. I don't know how much further we could have gone before it fell out completely, which would have been catastrophic.

We ended up in 3rd place (just 23 seconds behind 2nd) for Saturday. After replacing the worn tie-rod and torquing the control arm bolt to spec, we went back out Sunday morning. I was still pretty flustered from the first day, and kept waiting for something else to fall off the car. Even so, we managed to take 2nd in class.

The new car has good power when its running. It was difficult to start as the day went on and the weather warmed up, and I had to babysit the throttle to keep it idling. We haven't really tuned it on the low-end, so I kind of expected that. We should be able to get it going by Oregon Trail.
Vanagon Donuts in the snow - December 20, 2008
We got snow in Portland. Lots of it. Ridiculous amounts, considering that most years we don't get any. Josh, Flash and I took my Vanagon to a parking lot to play.

Wild West Rally - September 27, 2008
Stage 6 - New York E 2

Idaho Rally Videos - August 6, 2008
I have a few of the in-car videos (including the crash on Stage 10) cut up and posted to YouTube. Check them out, subscribe to my videos, and leave some comments!
Idaho Rally Update - July 15, 2008
We competed in the Idaho Rally on July 11 and 12. It was our best rally yet. The roads were amazing; long, smooth, fast gravel without the giant rocks we've seen most other places. We were doing really well right up until the final stage, when we pushed it a little too hard and went off the road into some trees. Had we gone off a few feet sooner, we would have rolled 20 or 30 feet down into a river, so I'll take trees any day. I'm sure the dents will buff right out. ;)

The sweep crew yanked us back onto the road and we finished out the stage at moderate pace, avoiding a DNF. That makes us 3 for 4 so far this year, with 2 rallies to go.

Our service crew was the best! Friday's Arctic theme was a welcome relief from the Idaho heat, and Saturday's Hawaiian Luau took our minds off the "detour" into the trees. I can't wait to see what they do next time.

As usual, pictures, video and more details coming soon.
Upcoming Rally Schedule
| | | | |
| --- | --- | --- | --- |
| August | 9-10 | PRG Worker Sprints | Montesano, WA |
| | 16-17 | Mountains to Sea TSD | Portland, Astoria |
| | 17 | ORG Rallycross | Astoria |
| September | 7 | ORG Rallycross | Hillsboro, OR |
| | 25-28 | Wild West Rally | Pomeroy, WA |
| October | 17-19 | Mt. Hood Rally | Hood River, OR |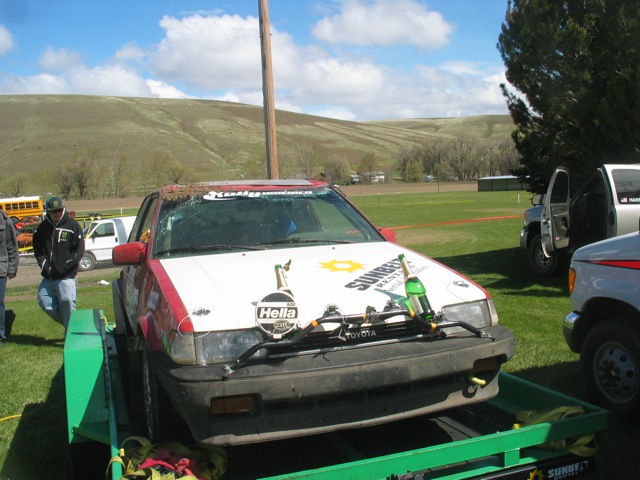 More pictures of os upsidedown at the E-Crew site.
Video of our roll at Olympus Rally 2008: